Apologies if this post ends up extremely long-please understand that my two passions/interests are fashion and sport!! :)
London 2012 Olympics-Fashion!







The Queen sky-diving! and

David Beckham in a speedboat!

The 2012 Olympic Games Opening Ceremony was a feast for the eyes, the spectacle has given us a fantastic opportunity to coo over the outfits





Christopher Shannon, Michael Van Der Ham and Nasir Mazhar — who are all based in London's East End, not far from the Olympic stadium — dressed 350 of the 1,200 dancers who took to the stage during a segment that focused on late 20th and 21st century British music. Their costumes were meant to represent the influence of British creativity on youth culture.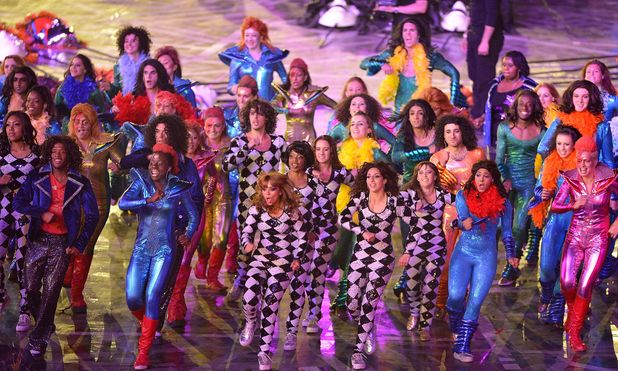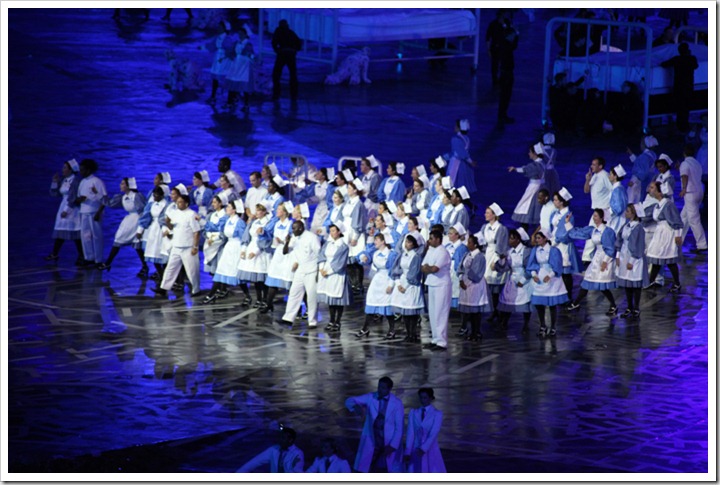 "London is known worldwide for its incredible talent in fashion design," said Suttirat Larlab, creative director of the opening ceremony, who worked with Danny Boyle, the event's artistic director. "We wanted to choose young designers who work and live in the East End for the opening ceremony and who create innovative and cutting edge new ideas.

"It has been an incredible experience working with this fresh new talent, all of whom have dedicated themselves heart and soul to this project. The opening ceremony is an incredible platform to showcase the very best of creative talent in the U.K., and we are thrilled that fashion is such an important part of this," he said.






The London Organising Committee of the Olympic and Paralympic Games (LOCOG) and the British Fashion Council (BFC) today announce that some of the very best young emerging fashion designers working in the UK helped design costumes for key segments of the Olympic Opening Ceremony.





Over the course of the last year Suttirat Larlab, Creative Director for Danny Boyle, has toured the studios of the best of British based new young designer talent selecting those designers whose aesthetic fits the narrative of the Olympic Games Opening Ceremony.





Introduced to these designers by Sarah Mower, the BFC's Ambassador for Emerging Talent, Suttirat and her team have chosen three main designers to showcase through the Ceremony and several others to dress individual talents and performers.





These three main designers are:

Christopher Shannon, Michael Van Der Ham

and

Nasir Mazhar

. Each of the designers' studios is based in the East End, a stone's throw from the Olympic Stadium from where their designs were viewed by over a billion people worldwide. The segment that they contributed to required a representation of the present and future of the extraordinary influence of British Creatives in world of youth culture. There were about 350 dancers wearing their pieces within a segment of about 1200 dancers - a quarter of the segment is costumed purely by their work.




I know I may be a tad biast but I think that team GB loked the best at the olympic opening ceremony in a white and gold t shirt trouser and cardi combo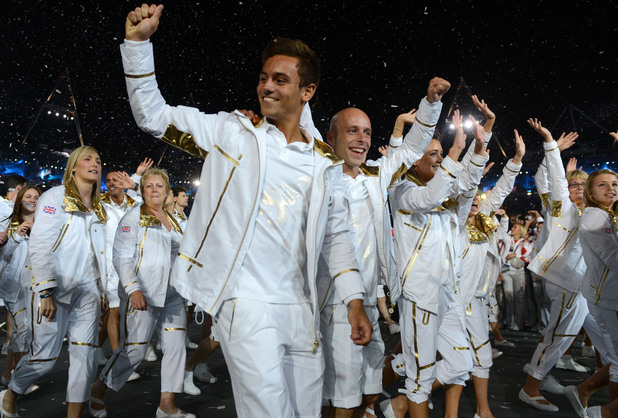 I adore Dizeeeeeeeeee! So I had to give the Londoner a mention (sporting a read cardi and cap)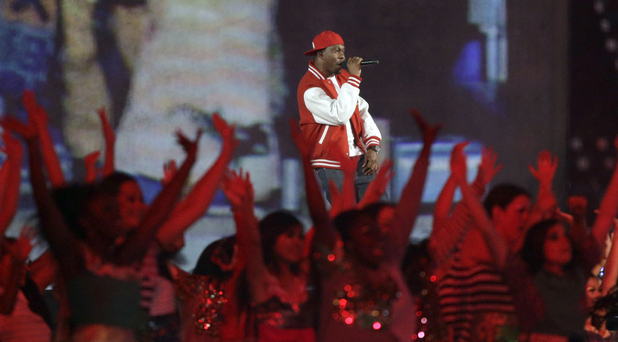 Her majesty looked gorgeous although I couldn't help feeling that it wasn't very practical for her skyfall...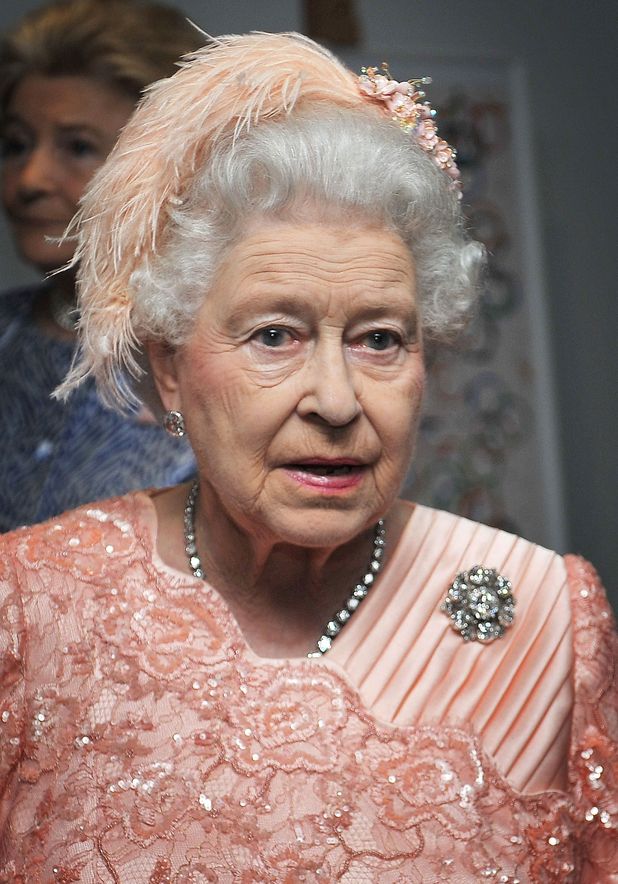 The Duchess of Cambridge looked stunning in a Christopher Kane patel blue satin coat dress
Kenneth Brannagh turned up in a top hat. Yes, you did read that correctly.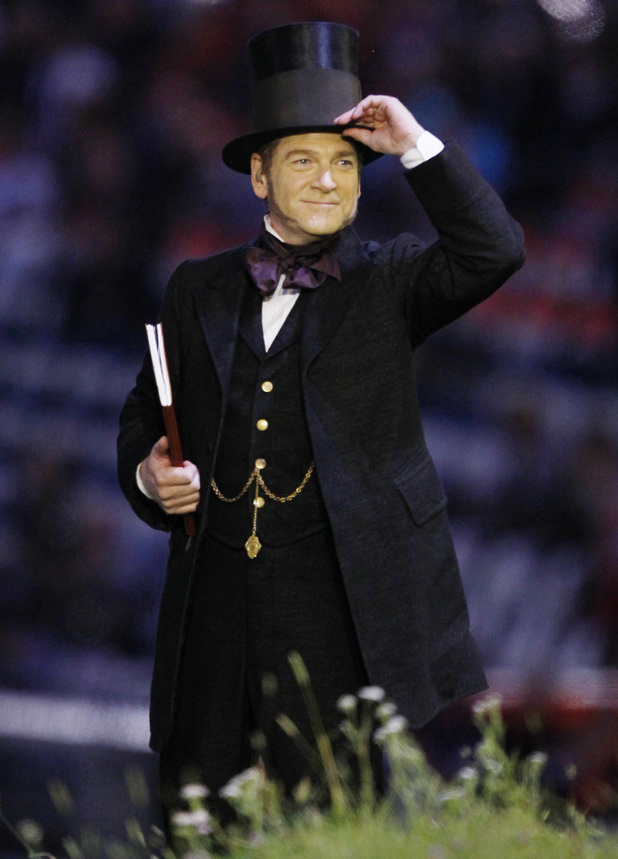 Singer Emeli Sandé was dressed by Jonathan Saunders.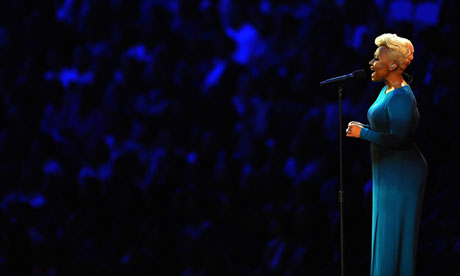 Jonathan Saunders dressed Sande, who sang the hymn "Abide With Me" during the evening,
Apart from Team GB my favourite and most unusual team outfits
Team US in jaunty berets and sharp blazers by
Ralph Lauren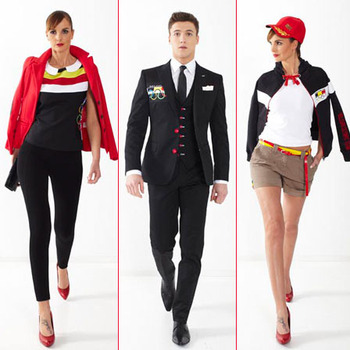 Belgium decided to keep it classy with a blazer and best combo in their national colors.

Czech Republic wearing wellies. Our summer has been wet but that is a little ridiculous don't
you think?
Denmark did a grey and red combination to go along with their national colors. The women wore fantastic red cardigans with a gray skirt and most paired them with pearls. The men wore a simple, but chic, gray suit with white shirts and red accents. Definitely wins a gold.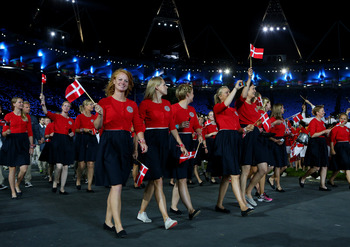 Ireland went full-on hipster with their Olympic uniforms this year and they were one of my absolute favorites. Skinny jeans and a green jacket—you just can't beat that!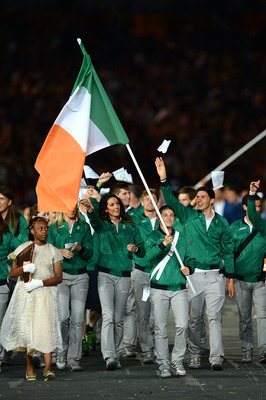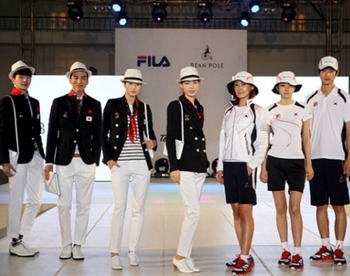 The South Korean uniforms have a nautical theme done to perfection. It's perfect for the summer games and they manage to be very sophisticated, yet sporty at the same time
THE DUCHESS OF CAMBRIDGE LOOKS CHIC WHILST PLAYING SPORT
The Duchess chose a £35 dress from the Hobbs sale to undertake her first official Olympics outing to Bacon's College in London's Rotherhithe. Ever the good
sport, she played some table tennis, football and had a go at judo, and managed to look impeccable when most of us would look a little sweaty and flustered
.
MOBAMA WEARS MENDEL
That's J.Mendel, the US label which has become the red carpet's new best friend. Accompanied by ambassador to the UK, Louis Susman, to a reception at Buckingham Palace, the First Lady looked, well, impeccably flawless, super-chic and effortless as ever.
Samantha Cameron
She's long been a fan of her creations so it's no surprise to see Sam Cam rocking a red and black top by Roksanda Ilincic this evening. The British Prime Minister's wife picked the ensemble from the pre-fall 2012 collection, teaming it with a belt and sleek black trousers.
Stella McCartney
Designer of Team GB's kit, Ms McCartney,
tweeted
this snap of herself getting into the spirit courtesy of a glitzy gold sports-luxe pant suit.